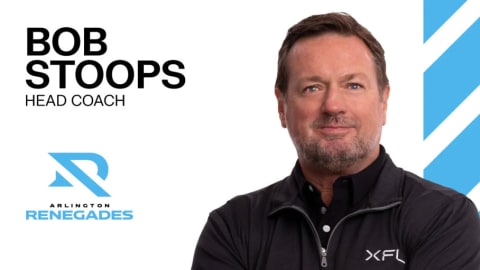 Stoops rejoins the league from his position as Head Coach of the Renegades in 2020. He was the longtime coach of University of Oklahoma (1999-2016) and coached the Sooners to a win in the 2021 Alamo Bowl. He won the 2001 Orange Bowl with the Sooners and earned a consensus National Championship. He has a 191-48 record over his 33-year college career and is the winningest coach in Oklahoma history. He led the team to the most conference championships of any Big 12 team and his 2008 team is the highest scoring in college football history.
He joined his alma mater, University of Iowa, as a graduate assistant and assistant coach until 1987. He has also coached at Kent State University, Kansas State and University of Florida, where he won a National Championship in 1997.
Stoops played football at the University of Iowa as a Defensive Back and was named the team's MVP in 1982. He received the Walter Camp Coach of the Year award in 2000 and 2003, the Paul "Bear" Bryant Award in 2000 and was inducted into the College Football Hall of Fame in 2021.