Anthony Becht, Head Coach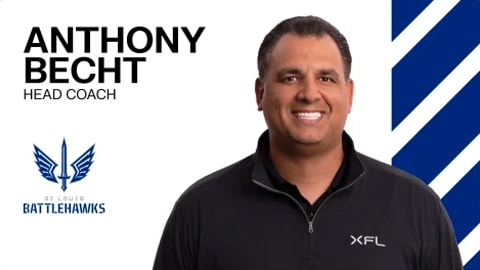 Becht joins the league from Wiregrass Ranch High School, where he was the Offensive Coordinator. He has spent his career developing young talent, including six years at powerhouse IMG Academy as their Draft Prep Tight End Coach. He also was the NFLPA Collegiate Bowl Tight End Coach, where he worked with the top-rated college tight ends to strengthen their draft position. In 2018, he was the Tight End Coach for the San Diego Fleet of the Alliance of American Football.
He is a 11-year NFL veteran and was the third NFL offensive player to play 152 consecutive games. He was selected 27th overall by the New York Jets in the 2000 draft and went on to play for the Tampa Bay Buccaneers, St. Louis Rams, Arizona Cardinals and Kansas City Chiefs.
Becht attended West Virginia University where he played Tight End for the Mountaineers. He was awarded the John Russell Award and was named Most Valuable Player in 1999. He returned to the Jets as the host of NY Jets Gameday and is a College Football Analyst for ESPN.