Recap: Los Angeles Wildcats 41, Tampa Bay Vipers 34
LOS ANGELES WILDCATS 41, TAMPA BAY VIPERS 34,
Week 5: HOU 32, SEA 23 | NY 30, DAL 12 | DC 15, STL 6
CARSON, Calif. -- The Los Angeles Wildcats (2-3) weathered an early 17-0 deficit against the Tampa Bay Vipers (1-4), speeding ahead from the second quarter onward to win 41-34 on Sunday, marking the highest-scoring game in XFL history.
Josh Johnson threw for 288 yards and four touchdowns, and the defense came up with two big takeaways, including a touchdown on a fumble recovery, in the fourth quarter.
The Vipers still nearly had a chance to tie near the end of the fourth quarter, but LA returned a strip-sack for a touchdown to put this out of reach. Another late Tampa Bay rally ended with a Wildcats interception.
WATCH THESE PLAYS
Big-Man TD alert: Boogie Roberts scored what would wind up as the deciding touchdown with this scoop-and-score on a fumble recovery.
The Wildcats broke through when they found success challenging with the deep ball.
Johnson found Saeed Blacknall on this deep connection:
The Vipers got a jolt back into the thick of things from wideout Jalen Tolliver, who deftly navigated the back of the end zone on this toss from Taylor Cornelius:
"We got down ... nobody panicked. Everybody learned their lesson from last week. We finished. I'm so proud of this team."
"That's a dub. The hard way. I don't care how it looks. As long as you get it."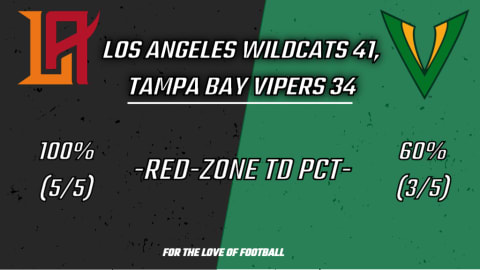 This wasn't truly a case of the Vipers showing a big weakness. It was just an example of one team outstretching the other in a few key moments -- in this case, LA's perfect rate on converting red-zone trips into touchdowns.
PEAK PERFORMANCES
VIPERS
Tolliver registered a team-best 95 receiving yards, and Reece Horn stepped up with a few grabs late in the fourth quarter, including the rolling touchdown that kept Tampa Bay in it in the fourth quarter. Horn led the club in targets (11) and catches (nine).
Cornelius committed the two turnovers that ultimately decided this one, but he went toe-to-toe with Johnson under center, tallying 300 passing yards and two TDs while rushing for 45 and another score.
WILDCATS
Johnson peppered Tampa Bay's secondary by spreading the ball around, but the biggest name to step up in Nelson Spruce's continued absence was Blacknall, who netted a 49-yard catch and scored a vital second-half touchdown on his team-high seven-target day.
Roberts' memorable score was set up by Cedric Reed's strip-sack. The defensive end also had six tackles (three solo) and another QB hit. Safety Ahmad Dixon led the club with 10 tackles (seven solo).
"I will just start by saying we have a very dissapointed Vipers locker room. I am proud of our guys. We played our tails off, but the fact of the matter is that we are a 1-4 football team, and we have to accept that."
"We came out swinging. Our offense was on it. Defense was on it too. And I think something we learned from this game is to just keep that momentum going. Don't get too high, don't get too low, no matter what the score is."
Up Next: Week 6
The Wildcats head back on the road in a West battle with the Seattle Dragons (Sunday, March 15, 7 p.m. ET on ESPN2).
Tampa Bay will swing back across the country for an East clash with the St. Louis BattleHawks (Saturday, March 14, 5 p.m. ET on FS2).
Week 5: HOU 32, SEA 23 | NY 30, DAL 12 | DC 15, STL 6